Photography takes an instant out of time, altering life by holding it still. -Dorothea Lange
---
My Story of Buttons,
The Anna's Hummingbird
​2015

---
My Story of Buttercup,
The Anna's Hummingbird
​2016

---
---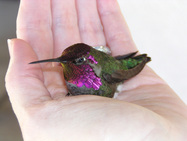 Sharing my images gives me great joy. My sister, Jenny, suggested that I should submit my hummingbird photos to the Microsoft Windows Personalization team. They created a theme with my images and you can use it for your desktop background pictures for free!



---
Click here to go to Microsoft Hummingbird Theme Download
---
---
Anna's Hummingbird Bath Time

Our back yard fountain is very popular with these flying jewels

---
---
A few of my favorites...

---
---
Nature

"I love to think of nature as an unlimited broadcasting station, through which God speaks to us every hour, if we will only tune in."
― George Washington Carver
---
---
Autumn

My favorite time of the year! "Nature is but a name for an effect whose cause is God."
Eastern Sierra Nevada mountains